Commercial Functions
HighStone operates through a series of carefully administrated links, which are designed to support clients' invoicing and cost reporting procedures.
The costing module is built around a coding structure that encompasses all contract activity.  Details of staff time, operative labour, plant, materials, purchases and sub-contract costs are collated, under this coding structure, for routine works and cost-reimbursable activity.
The application creates works stages which store all non-staff related costs through a raised works order.  Works orders are associated to a 'parent scheme' as well as to the works stage.  A further works stage with activity codes is created to capture staff timesheet information.
Reporting Tools & Support
The application allows for a variety of custom reports, a searchable hierarchical reports folder structure, and an easy to edit text file format which can be added to the reports library.  Reporting on asset records and maintenance activities is supported through the reports library.
To read more about clients using HighStone refer to our clients.
Asset Management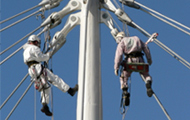 HighStone has been developed to support facilities management contracts, including the management of works activities to repair and maintain buildings, infrastructure and assets.  The application responds to the logging of reported damage and defects; coordinates routine tasks including surveys and checks; and manages annual maintenance requirements, such as cleaning, horticulture and general programmes.
The asset management module is supported by mobile applications that allow users to assess and record the condition of assets in the field and return collected survey data to the main contract asset database.
A flexible asset definition facility allows clients to create their own asset definitions, types and associated attributes, such as class, size, manufacturer and colour.  A basic asset model is provided as a three-level hierarchy that can be matched to the actual asset model in the field.  Typical configurations include:  building and external area;  building floors;  rooms and areas.  Highways configurations include:  county;  area;  road number;  carriageway section.
Individual assets are classified by type, with attribute details defined for each asset, with the option to include virtually any characteristic that needs recording.  Asset records are raised and allocated to entries in the basic asset model.