Our History
In 1982, the Claremont Controls moved to offices in Rothbury, Northumberland and focused on the development and distribution of the Hornet application, through the growing personal computer market, DOS systems, MS-DOS, IBM-PC and Windows. The Hornet application continued in development through to the Microsoft Windows platform in the late 1990s.
As the software application market matured, and increasing numbers of high-volume and low-price products appeared in the UK (from both UK and US developers), Claremont Controls diversified to more encompassing project management applications on a platform of Unix and SQL Databases.  During this period, Claremont Controls formed close relationships with major construction companies in the North East of England, to help them to develop comprehensive software applications to manage their work activities.  This work has progressed to become the basis of the HighStone application, combining the Windows PC platform with powerful SQL databases.
Our Offices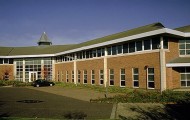 In 1999, Claremont Controls moved to new offices in Ashington in the Wansbeck district of Northumberland, where they remain an independent software company.
The company continues with its own software application development programme, working closely with clients, developing software applications in direct response to the needs, ideas and requests from the users of its systems.
The company enjoys an excellent reputation with its clients and benefits from longstanding relationships and referrals within the industry.