Software Implementation
Claremont Controls assists in the definition of any contract specific data required to implement the HighStone application, including geographic asset data, cost codes and user records.
In the first instance, we discuss all elements of the contract with the client, and present an overall implementation plan.  A mobilisation schedule is then agreed to allow the system to be installed and operating commenced.  The process is followed by user induction training and any agreed on-going support.
Provided the key elements that a client is seeking to address are well defined, the installation of HighStone may commence.  We activate the areas of functionality that match your existing requirements to enable an efficient and prompt start.
Clients may benefit from additional HighStone functionality as new modules become available and ideas and requirements develop with the initial use of the system.
Current clients also benefit from the White Papers area of our website where they can keep up to date with system specifications and updates.
Software Support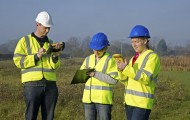 Support, configuration and expert advice, tailored to meet individual client requirements, is available as part of Claremont Control's flexible consultancy support service.
Support ensures that the capabilities of a system are understood and maximised as quickly and efficiently as possible.
Claremont Controls are always ready to work together with Clients to focus on meeting their business needs in the most cost effective manner, whilst always ensuring that their current business processes are enhanced.
Contact Us for further information about how our software can transform your contract management.